BMC-Leyland Australia
Heritage Group Inc.

© BMC-Leyland Australia Heritage Group Inc.
Activities
The Heritage Group Committee organises several meetings throughout the year as well as conducting its own Committee
Meetings and AGM. From Reunion style get-togethers, to attendance at major car shows, you are never far away from an
interesting discussion about BMC-Leyland vehicles.

Annual Heritage Lunch
The Heritage Lunch is the Group's
flagship annual event. Enhanced by a
display of vehicles, guest speakers,
prizes and other activities, the event
allows you to meet up with former
colleagues, and for interested persons,
to meet with those who were involved
in the manufacture of BMC and Leyland
vehicles.
The lunch is held each year in
September at the Ryde/Eastwood
Leagues Club, Ryedale Rd, West Ryde,
just across the road from the rail
station. Ample free parking is also
available in the multi-storey carpark
next to the club.
The vehicle display is held on the top
floor of the carpark.
For catering purposes, it is neccessary
to register for this event using the form
in the Newsletter which is published
prior to the event.
Doncaster Reunion
This event had been running since
the factory closed. It was a time
for past employees to meet in an
informal atmosphere. Unfortunately age
and infirmity have taken their toll
and the event is no longer viable.
However, all ex-employees are welcome
at the Reunion Lunch held each year.
Motor Show Events
The Heritage Group has a presence at
the major historic motor show events
in the Sydney area.
Shannons Sydney Classis (Eastern
Creek).
All British Day (Kings School
Paramatta).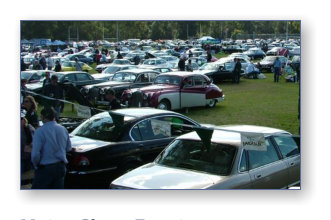 Committee Meetings
The Committee meets three times a
year, in addition to the Annual General
Meeting.
Annual General Meeting
Held once a year to elect office bearers
and conduct other business in
accordance with the Constitution. A
copy of the Constitution is available on
the Members web site.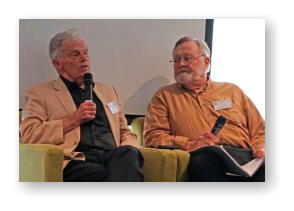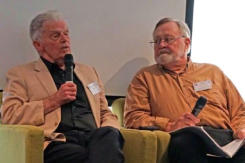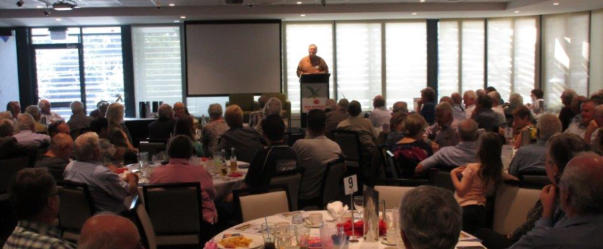 Will Hagon, MC at the 2016 Heritage Lunch addressing the participants.